Kink in the market's armor - Is the pullback coming from these lofty levels??
Are we starting to see a kink the market's armor. Was the 1 year anniversary of the election a mark of a short term or a long term top? What should we expect going into the end of the year and heading into 2018?
Exponential moves in many stocks as been very characteristic of this move in the markets. There has been narrow leadership and everyone, just like in the year 1999-2000, has been loading up in tech stocks and tech stock funds. It seems like we never learn from previous bubble manias and even though we are truly in a bubble with stocks trading at valuations not seen since 2000 and even the market multiples for many metrics above and beyond 1929, 2000 and 2007, none of the analysts (who by the way are in no way responsible for their recommendations) are NOT telling their clients to take profits and wait for better prices. Short covering has also extended many of the popular stocks and obviously the FAANG stocks along with some others in the market - keep flying high. Financial engineering, stock buybacks and earnings manipulations have become a way of keeping prices elevated. The level of complacency is unbelievably striking - there is no respect for risk.
Every person you speak to thinks that there will never be a financial crisis or a major pullback in the markets. Personally, I believe in simple math and that there is always a reversion to the mean and trust me the mean is way below where the markets are. Typically 50d, 100d and 200d SMA are very critical in determining where the markets should find as support levels. Bubbles in real estate (many house flipping shows on TV - similar to 2007), bond bubble (scares the shit out of me) and along with the stock bubble is mind numbing. The funding of startups day in, day out, is also a stark reminder of the days of 1999-2000. Startups that will vaporize and end in total losses will be the norm soon.
Everyone thinks they are an investing genius and there is no way they will lose - that is when you have to take a contrarian view of the markets. Folks willing to fund companies like SLACK (nothing unique), WeWork, and many others at valuations that make your head spin has become norm and every next investor is trying to better up the next one by showing who is boss. This is NOT normal.
The Fed and central banks around the world will be responsible for the next pullback and it will not be pretty. Market capitalizations of many companies are at mind boggling levels and unheard of. Some market capitalizations dwarf GDPs of certain countries and yet everyone thinks we are going higher. We think it is a serious time to start looking into taking profits and buying some protection in certain high flying stocks and sectors (semiconductor being at the top of the list).
We suggest looking at puts for Jan 2019 for stocks like ALGN, ISRG and some other high flying stocks like RACE, NVDA and many others. Keep an eye on HYG and JNK - these are he ETFs related to the high yielding and junk bonds - these are pulling back and have a very good correlation coefficient to the market indices.
Consumer debt is at all time highs - credit card debt is now at over $1T - yes that is a T.... Car loans, housing debt and HELOCS, student loans are at all time highs. We are a world in debt and it is all going to end badly.
Debt/GDP ratios for China is at a staggering 280% and going higher - and other nations debt/gdp ratios are also at staggering highs - all this debt has been created in one decade. The central banks have managed to print so much money that it dwarfs everything we have printed in over 100 years - they have managed to do it in 10 years - that tells you why we are in a bubble. Japan markets are being driven higher because the government is buying stocks - can you believe that - government buying stocks!!! it is the quintessential final nail in the coffin or basically giving up on the basic equations of economics - normal market cycles and following simple rules of the law of numbers and laws of supply/demand and demographics.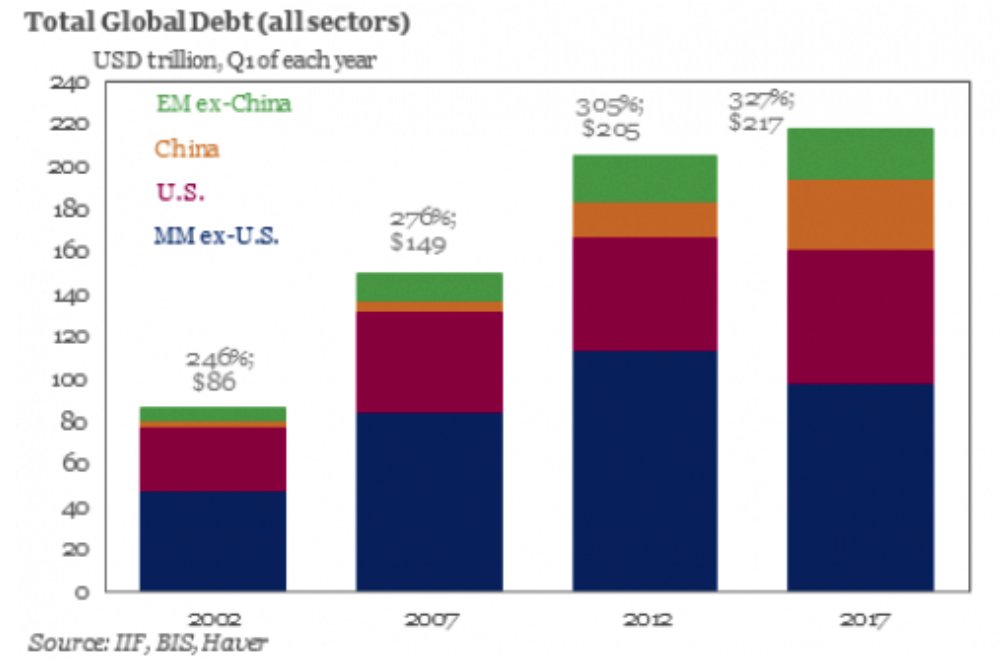 Charts for: DIA, LRCX, ALGN and NVDA below: EXPONENTIAL MOVES NEVER END NICELY. We recommend taking profits aggressively.
Here some article links for your reading:
Yearly subscription is only $180 and you can also get access to our automated trading algorithms and if you enter your portfolio - you will get portfolio emails at end of day indicating the technical picture of your stocks and whether these are buy, hold or sell. Only for paying subscribers.
CEO/Founder - Trucharts.com